Say goodbye to an overly stuffed closet this spring.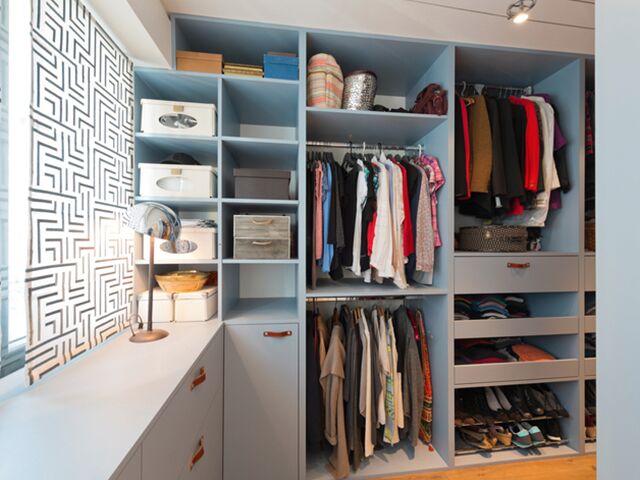 As big as our wardrobes may be, most of our closets are, well, not. And according to a Pinterest 2017
Home Report
, we are all trying to find more
sneaky ways
to store our out-of-season stuff. To leave more space for in-season clothes we recommend these practical and stylish storage solutions below.
[post_ads_2]
Platform bed
Make use of all that wasted space under your bed and get one of these. Just pull your mattress up to reveal a huge storage space underneath.
Space Saver Bags
Pack away all of your winter clothes in these miracle bags. Stuff each one to the max, close the bag and use your vacuum to suck out every last bit of air—creating tons more space in your closet. These genius bags keep out smells, water, dust and bugs so your clothes are ready to wear come fall.
[post_ads_2]
Trunk
Trunks are a great place to store all kinds of clothes and bulky items, all while functioning as a chic coffee table alternative or perfect accessory for the end of your bed.
Storage Ottoman
No one has to know that last season's dark wash skinny jeans are tucked away under your feet.
[post_ads_2]
Shoe Cabinet
Looking for a chic and functional way to store shoes in your entryway? Try a shoe cabinet—it doubles as a catch-all for keys, bills and sunglasses in a small space. You can also
DIY
the cabinet above.
High shelving with baskets
If you don't have a ton of extra wall space, take advantage harder-to-reach, higher up spaces and install shelving just below the ceiling. Store shirts, pants and out of season shoes in baskets in your bedroom or above your washer and dryer.
[post_ads_2]
Storage bench
Build or purchase a storage bench for your living room or foot of your bed as an extra space to store bulky sweaters and sweats.
More from The Nest